I was talking online last night about the poetry of Leonard Cohen. When I went to bed I intended to read for maybe 10 minutes before sleeping. An hour later I go oh CRAP look at the time – it's easy to get caught up. I'm sure, if you were some sort of literary expert you could pick it all apart, but I don't care. I relate to it in ways I don't really understand.

And he makes a good change from reading Plath 😉

Each of my days at work right now end up spiraling into me running from office to office, making call after call, or rushing to email someone before some sort of deadline. It's all a bit nuts. It would just be nice to have a to do list that I can actually work with – something that isn't constantly changing or that I have to ignore because of all the other seemingly urgent stuff that keeps popping up. The fucked up thing is that in a week I will (hopefully) have things teetering just on the edge of control – just in time for the boss to get back and A bomb the whole thing. Goddamn.

Also – night number 4 of crazy sunsets –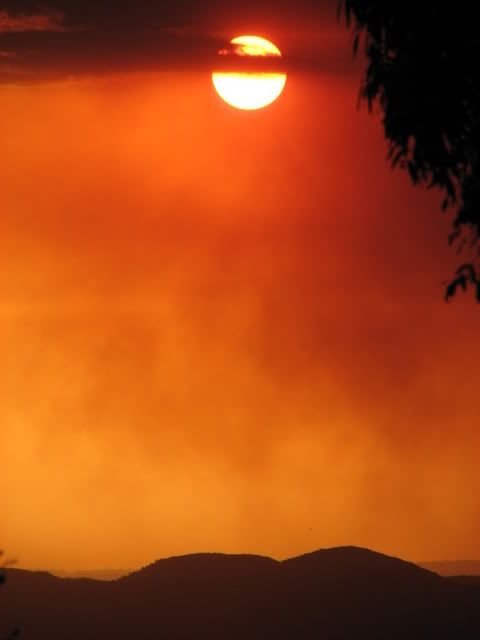 I really hope the power stays on over the next few days – being flanked by fire in most directions (albeit at a fair distance) there's a good chance at some point we'll loose it. Then I'll be back to taking photos of candles, showering at work and staring at the walls. Oh what fun!

There's been a distinct lack of sleep in these parts. I've been going to bed late, but even when I get there, there is just no amount of sleepiness.

Bed now though – I'm gunning for 8 hours tonight.