What an awesomely awesome day. For the first time in a long time my head is clear and I feel ready for sleep. I'm crazy sun burnt though.
I have completely fallen in love with the town of Carcoar. Wanna know how much? I've been looking at Carcoar real estate online all night. There is not a lot of it, seeing as it's a town of around 400 people, but enough to get me excited. This is in no way a short term plan, by the way. It's a pipe dream at best, but one that's most certainly obtainable.
You know how it is with some places. Or, perhaps you don't. Anyway, sometimes when you first experience a place you feel some sort of magnetic, drawing force. When I last drove via Carcoar I felt this right away – it's to do with the painting of Whiteley, sure, but it's more than that. On the morning of December 28 last year I felt a kind of homecoming, and a magnetic pull to the town. I've been thinking about it ever since and I've known since that day that this year I would be back to follow that properly.
Today, when I drove into the town, exactly the same thing. I kinda felt like I was coming home. I stopped at the bridge above the town and looked down over it. I was excited to get down into the streets and start walking. I headed down the hill, off the main highway, and was struck right away with how well preserved it is – time has really stopped down there. Most of the buildings are beautifully restored, and the main street has had almost no change since the late 1800's. Since reading tonight I've found out why, but it was the most amazing experience to step into it. I parked the car outside the old courthouse and headed to a park I could see across the road. What I found was the Belubula River – a clean, running river that runs right through the middle of town. I pretty much decided I'd follow that first and see where it took me.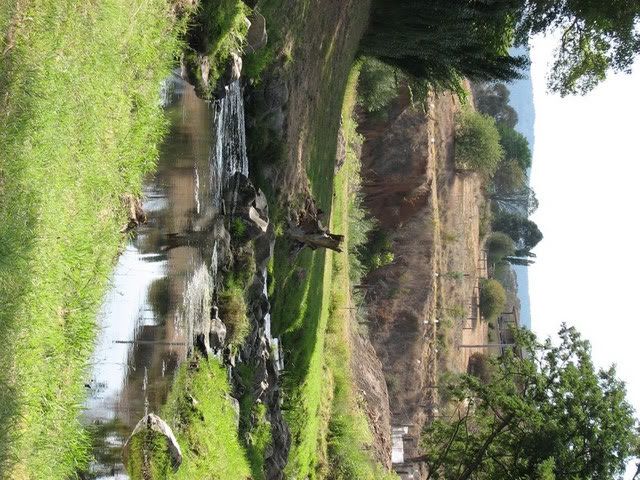 I headed away from the main street (figuring I could do that later) and over one of the many little bridges in the town. I ended up on a tree-lined street flanked by heritage houses and buildings that meandered toward a dirt road in the distance. I walked past a caf?? and antique store where a woman and man were talking out the front.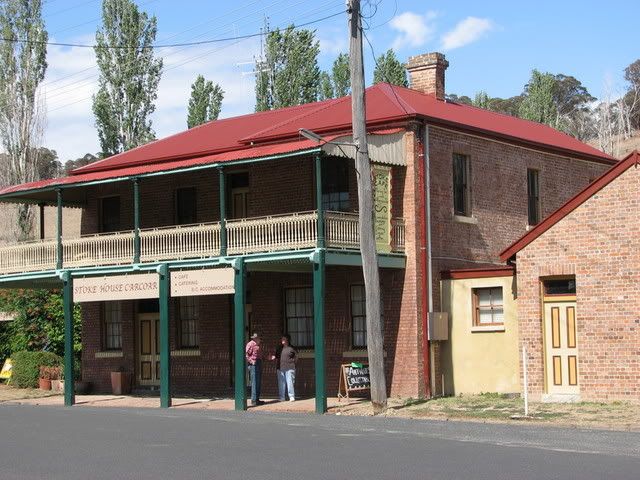 I decided at this point that the road didn't seem to head anywhere, so when I went past the last of the large buildings I turned around to head back. At this point the old man from the front of the store had finished his conversation, had crossed the road, and was walking behind me.
'No' he says, 'keep walking. You haven't seen everything there is to see yet.'
'There's more up there?'
'The oldest house in the town is up there!'
'How much further?'
'Not much.' And with that he started shuffling up the street, asking me where I was from. I told him Wagga originally, but right now I lived in Sydney. He gave me the normal thing of not being able to stand the pace of the city, so I explained I lived in the Hawkesbury really, rather than the 'big smoke'. He stopped in front of a building and said –


'This is the old pump house. The house behind is the oldest house in the town. You can't see it from the road.'
'Can I get back there to have a look? Or is it private?'
'It's private – I live there! Come back and I'll show you.'

We went around the back of the main building and sure enough there is a very old brick and wooden house and building back there. He opens the door to the large building and we step inside. The room is very dark, but my eyes adjust and I see rows upon shelves upon walls of stuff. Just random, old, collectable stuff. Painted boxes from hundreds of years ago, children's toys and pieces of furniture, old street signs and bottles and just everything you could think of. There were hundreds of old hubcaps hanging from the rafters in the roof. The convict brick work on the inside was amazing, and the original roughly hewn floorboards in both buildings were fairly interesting to navigate. He told me he didn't work anymore (which made me smile because he honestly looked about 100) but he made things for the children's hospital, like furniture and toys. He was most proud of his wood turning – he had a little glass cabinet on one wall of this massive shed where he had made tiny little tables and chairs, as well as goblets and cups and saucers, out of local wood from knocked down buildings and also seed pods from local trees. They were so delicate, and the patterns and colours in the wood were amazing.
He asked me why I was in Carcoar. I said I had no idea but I just felt like I had to visit here since driving past last year. I also told him about Brett Whiteley and feeling the need to experience what he experienced. He said there was a long history of artists coming to the area. Also, before I left him, he told me I had a 'spark'. Actually, it was more like 'You. You have a spark in you, you do.' I have no idea what that means, and it was probably just an old man being nice to a strange girl ambling about his town, but it made me feel very good.
He told me I should keep following the road and head back down to the river – the original hospital was down there and the walk around the back of the town was nice and relatively flat. So, I did. I found the hospital –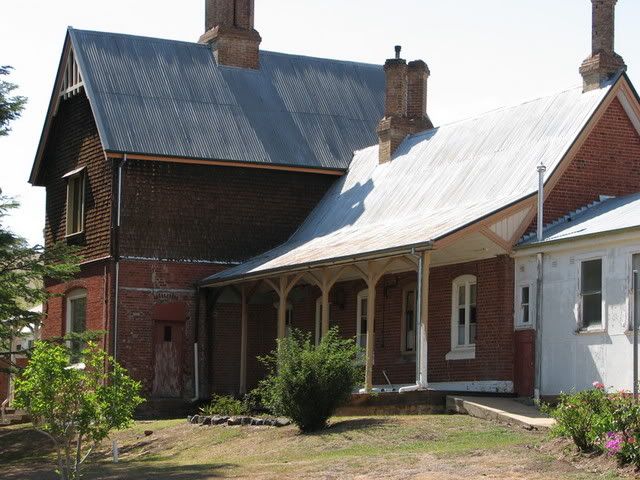 I head from the hospital down to the river again. I see in front of me a bridge across the river in the shade of the main bridge from the highway. It looks very inviting. While I'm heading down to it I step to the side of the road to let a ute pass that had crossed the bridge and was heading up the hill. The ute pulls up beside me and the old man inside sitting next to his wife (presumably) says to me, completely out of the blue –
'There's a good fish down there in that water.'
A pause from me, who is just smiling like an idiot, and then 'Oh?'
'We saw him just now, crossing the river, he's a good fish.'
'Wow! I'm heading there now – I'll have a look.'

And with that, and I kid you not, he tipped his hat at me and drove away.
So I head down to the bridge and start looking over the edge for this good fish. The water looked so clean and so cool, so I rolled up my jeans and sat on the edge of the bridge with my feet in the water.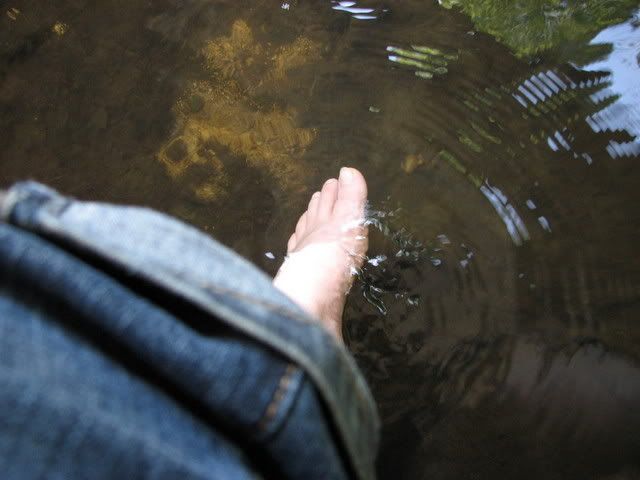 After about 5 minutes me sitting there enjoying the cool water and the quiet and feeling like I was right out of Huckleberry Finn, the ute comes back down the hill again. Just before the bridge it pulls up, and the old man and his wife get out. They start grabbing things from the back of the ute and I figure they want to fish, so I say to them –
'You need me to move? My feet might be scaring the fish away.'
'No, we're not fishing. We've come to get feed for the sheep.' Turns out they, like every other farmer in the area, have no feed for their stock. They'd come down to the river to pull up some scrub to feed them. Thereafter came a fairly hilarious 15 minutes or so of me having a shouting conversation with these people about the drought and Carcoar in general while they're traipsing up and down the river bank collecting scrub for their sheep.
From the river I head back into town and over another bridge covering rushing water. The river, even though it's narrow, runs pretty quickly. I head back up the hill to the main street and decide to have a look around.
On the main street I see a total of two people and 3 dogs. The two men are talking outside the pub, and two of these dogs clearly belong to him. The other dog is waiting outside the pub also, presumably for his owner who was inside at the time. This is another great thing about the town – I hardly saw ANYONE. Also, every person I did see wanted conversation and to show me the town. It was awesome.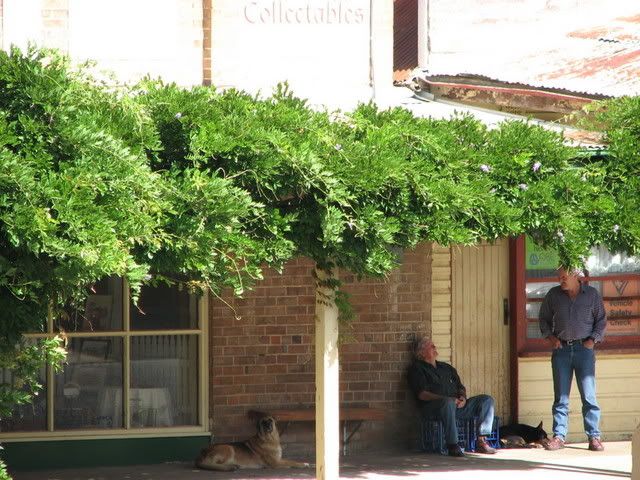 After taking some photos of the main street I got back in the car and headed to the top of the steepest hill – I could see some very interesting church spires up there. I find two beautiful churches – one made of sandstone and one, very gothic looking church made out of darker stone. While I'm outside the sandstone church following a blue tongue lizard I'd scared off the fence when I pulled up, another car pulled up behind me. A guy with very large camera got out and right away introduced himself. I asked if he was local but he said no – he actually lived in the Blue Mountains and was on his way to Cowra to photograph a wedding, but he knew a lot about the town and came here fairly often. He was there to take photos of the sandstone church that day, but he told me to go down to the darker church, which turned out to be the St. Paul the Apostle Anglican Church, because it was definitely worth a look inside.

As I was walking away he asked if I attended church at all. With a wry smile I said no, not at all, and then he said –

'Take a look at the painting of Jesus on the far back wall. When you get into the church and look at it from the doorway the eyes will be closed. Then, walk a little closer and the eyes will be open. Try it.' So with this I think him and head down the hill.
Churches wig me out generally, particularly old country churches that are wide open with evidence of being used regularly. I feel like I'm stepping into someone's house while they're not home, and I also imagine the whispers and taunts of dead people and spirits like the rushing you hear when you hold a shell to your ear at the beach. I walked into this church and right away spotted the painting of Jebus on the back wall. Okay, can I just say CREEPIEST PAINTING EVER. Of Jesus or otherwise. I will let you be the judge –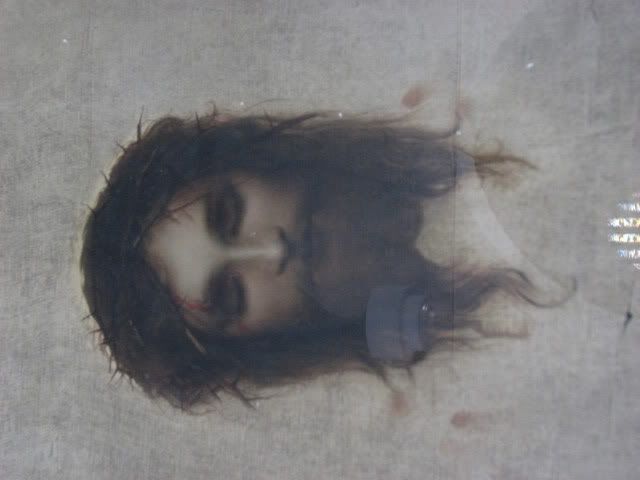 And yes, his eyes open and close. I posted this one because it kinda looks like he's winking. It's crazy, and it's some sort of weird shading thing, but I got all wigged out the more I tried to figure it out and the more I couldn't. So I went ahead and looked at the rest of the church. There were 3 other things particularly cool about this place –
Firstly, the kneeling cushions or whatever they are in all the pews. Each local family obviously has a reserved pew, and it looks like they've all hand embroidered their own cushions. There was something so perfect about this.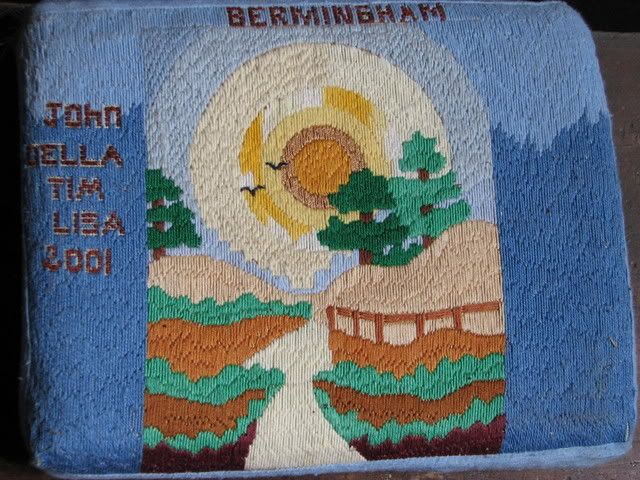 The stained glass windows. I love love love stained glass windows. They're light and colour at their absolute perfection if you ask me.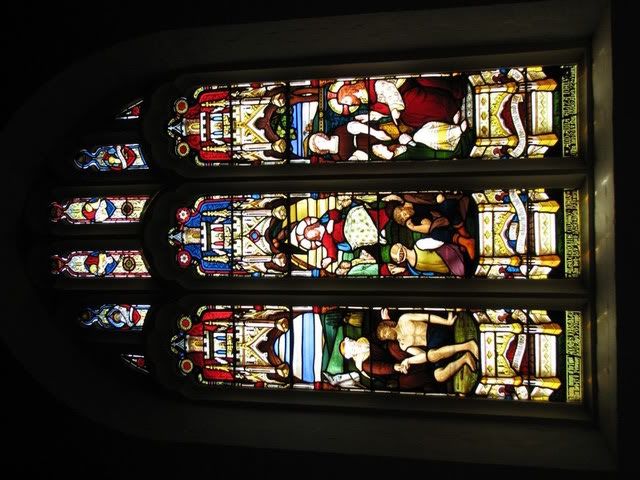 The statue of an eagle at the front of the church. It was kinda creepy too, but in a much better way.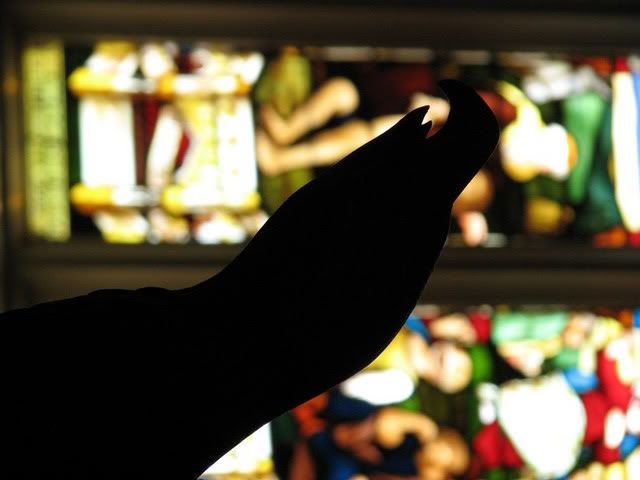 Once I'd seen the church I decided to leave the town. I'd pretty much seen everything there was to see, and I had other places to kick on to. I was so sad to leave though. I am already planning on going back – hopefully quite soon. The old doctors house has been changed into a bed and breakfast, so I might try and get an extra day off work some time and take a long weekend. Who knows what the future will hold for Carcoar and I.
I could write about Mount Canobolas, but I probably wouldn't do it justice so it will have to wait until tomorrow. Ditto Bathurst and Blayney.
Sleep now.