So, we officially have a mascot in these here parts.
Everyone, meet Bowie –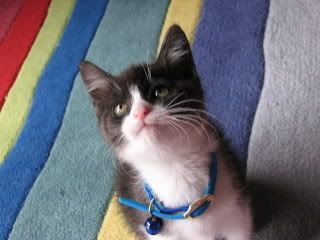 I picked Bowie up from the RSPCA animal shelter in Yagoona yesterday.  His likes include sleeping, sliding on floorboards into walls, chasing rolled up pieces of tin foil, and sitting on my keyboard. His dislikes include me putting him down from my desk, me shutting him out of my bedroom, and ironically Cat Power. Every time I put Cat Power on he goes feral. We're going to have to work on that.
Also, I think he wants to start a blog. It's just a feeling I get.
Honestly, CUTEST KITTEN IN THE WORLD. Fer serious. He's a lot of trouble but he's also a lot of fun. And you can never have too much fun.