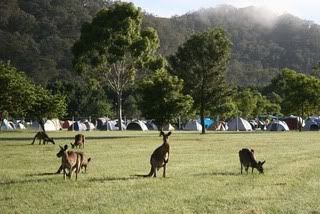 It takes a brave soul, or collective of souls, to embark on the project of a new music festival in greater Sydney. Particularly a long one over 3 days. The festival circuit is pretty full up at times, and between the actual events and the sideshows sometimes we can get a bit worn out. Sydney Festival backing into Big Day Out, anyone? But the people behind Playground Weekender went in wholeheartedly last year. I think they pulled it off, too – not so much for the crowds, but they genuinely had something different as far as Sydney festivals go. And it doesn't just begin and end with the amazing venue.
I also like that they seemed determined to be in it for the long haul. To this end they seem to have embraced the power of music bloggers and the interwebs in general. I guess they've seen how far blogs can go to influence music fans, and presumably this is the impetus behind giving media passes to a lot of Sydney bloggers. Myself included.
I went off my own bat last year. It wasn't so much the line up that had me excited (even though it wasn't bad) – the idea of a bona fide music festival in my neck of the woods was a little crazy to me. I mean, Wiseman's Ferry?! When I lived in Wilberforce it was just over the river!! Crazy.
I wrote quite a bit about both days then. The venue is glorious, and the ferry ride in is really nice too. I'm not crazy excited about the line up this year, but there's enough to have me curious. And I really hope they have the small local stage again – last year I re-discovered Bridezilla (and now they're supporting WILCO whodathunkit) and also saw a good set from the Paper Scissors and Richard In Your Mind. And I found Elbow. That was cool.
So I will go along again this year, with the boy, and again breathe the clean air of Wisemans Ferry. I hope they put Dappled Cities on Saturday! I was really disappointed they dropped from last year.
Also cool is they gave me two passes to give away on this here patch of the interwebs. Given the type of blog this is I'm not sure I'll get takers, but tomorrow I'll give a shout out and we'll see what happens.