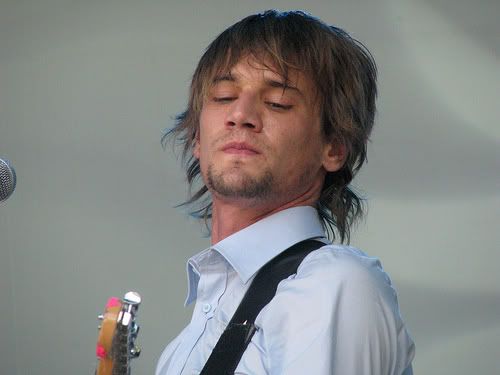 On Friday night, when we were sitting safely (and dryly) in my lounge room in the Wilds of Windsor, watching the lightening brighten the sky and listening to the rain pounding down, we held grave concerns for our day at the Playground Weekender on Saturday. I could think of nothing worse than tramping through knee-deep mud, waiting, wet in queues for most everything, and standing for hours drenched to the core watching various bits and pieces of music. Hooray for music festivals in the pouring rain. But lucky for us, and everyone else who attended, the sun came out in full force for the Playground Weekender this most recent weekend at Wisemans Ferry.
Not only did we have the sun, we didn't have the queues. For the one thing that stood out to me about the Playground Weekender this year (and at times last year) was the lack of crowd. And perhaps this is something the organizers count on? Perhaps they count on just that many showing up. And really, it's not something I hated. I really kinda liked the fact that I could present myself for food and be served right away, or could wander to even the small, local stage and find somewhere not only to see perfectly, but to sit down. But when you're standing in front of a massive stage, in the middle of a massive paddock, surrounded on one side by a mighty river and the other by a massive cliff face, it feels kind of odd to be one in a crowd of hundreds, not thousands of people.
Perhaps the crowd got thicker later. The line up to this years festival was very dance music heavy, and I'm certain the kids turned out in force for all that later on. I'm not a huge fan of this kind of music so I didn't stick around for Kruder and Dorfmeister that evening, and I'm certain Maximo Park would have been the highlight for many people on Sunday.
I did, however, catch Dappled Cities. Do we still use the Fly? I'm confused about that. Anyway, I've never actually had a chance to catch a full set from this band. I've twice before seen part of a set, including at the Essential Festival last year. I really love the melodic quality these guys have to their music, and they are definitely worth the hype. I'm only really familiar with their songs that got radio play, but I'm here to tell you – their new stuff is all kinds of great. I'll be paying close attention. They also seemed to make the most of the lack of crowd and they tried really hard to make a connection with the audience that was there.
Prior to Dappled Cities on the main stage I saw I Heart Hiroshima on one of the smaller stages. I'm not sure what I expected. A bit of pleasant pop maybe? I think perhaps that's what we got. They were a little shouty though, and I can't for the life of me figure out how they got the support for Cat Power in Brisbane. Not at all that they're not good enough (I mean FFS, if that god damn crazy girl APPALOOSA got the support in Sydney then talent doesn't seem to be an issue) but their sound is about a million years removed from Ms Marshall. Even with the band. Anyway, another post I guess.
I also caught the set from Mr Josh Pyke. I was pondering tonight to someone over IM if the reason I didn't enjoy the set as much as I thought I might had anything to do with the stupid quality of the live music I've experienced so far this year. Possibly that's the case. But whatever the reason, his set left me a little cold. It's nice and all. The guitar and the singing. But sometimes a girl just wants a bit of passion.
Among the bands I was sorry to miss were Coco Rosie and the Wombats on Sunday. Tickets to Cat Power on Sunday night meant logistically it was just too hard.
I'll be curious to see the line up next year. It's a well run festival – security was good and seemed reasonable (i.e. not too over the top like last year) and the lay out this year was much better (the stalls along the fence between the main resort area and the main stage was a great idea). All the stages seemed to run on time, and the set up of the main stage was impressive to say the least. I just wonder, though, if the very market they're targeting with a dance-heavy lineup like that (i.e. 18 to 25) are the kind of market that will struggle to make the effort to get to a venue like Del Rio Resort. Or to appreciate it for that matter. I wonder, if they tapped into that crazy, obsessed group of indie fans who would walk over glass to see their band of choice by getting a group of bands the likes of Menomena and Wolf Parade (and dare I say it, the Mountain Goats) together, would they get a more dedicated and perhaps larger set of punters? Maybe not. Perhaps that's also not what they're going for.
Anyway, it was really a lovely day. And I have the sunburn to prove it. Regardless of anything else it was a beautiful day spent in a beautiful part of the world. It's a place worth visiting even sans a music festival. Just so you know.
P.S. I did not take the photo above. Wayne over yonder did. Because he took his camera like a good blogger and I did not.